Once again, another edition of
Stupid Nubs
for you today. This time, we hit the AH.
In lieu of my friend,
Hydra
, making gold up the wazoo, my blog-following as of late has been focused on places like
Greedy Goblin
,
WoW Economist
, and
WoWenomics
, all in an effort to give greater gravity and girth to my goldsacks (har har).
One of the posts suggested to put vendor-sold items on the AH. I like messing with dumb people, in fact, that seems to be all I write about. So I got on
Runface
and ran around TB purchasing things. Only a few, though, because in the likelihood I don't sell anything, I don't want to have a ridiculous surplus of
Skinning Knives
on me.
Of course we've all seen it: AH items that don't make sense. We don't buy them, who the hell would? Seriously, no one can be that stupid.
I grabbed stuff, mostly items you'd need for mats, posted them, and in a few days I found that,
yes, there are actually people out there who buy vendor items from the AH.
That would be ONE
Rune Thread
. At a base price, no faction discount, of 50s each, I think I made a significant profit.
Again, just ONE
Eternium Thread
, not a stack, receiving a 350% profit. The fact that this guy bought three auctions of the same item makes me chuckle.
I decided, hell, why not, let's get ridiculous. I bought
coal
. Sold by most Blacksmithing Supply Vendors, 5s base price per piece of coal, I bought a stack for 47s 50c with faction discount on Run. I posted it for a ridiculous price.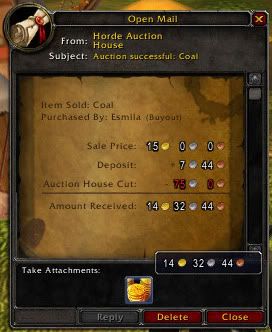 Seriously? C'mon people. That's just retarded. IT'S FUCKING COAL. You paid me that much for coal?!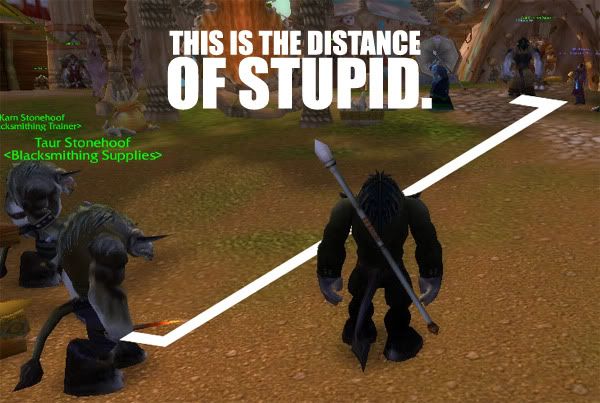 20 yards. That's all I have to say. I made a little more than a daily quest by moving 20 bloody yards.